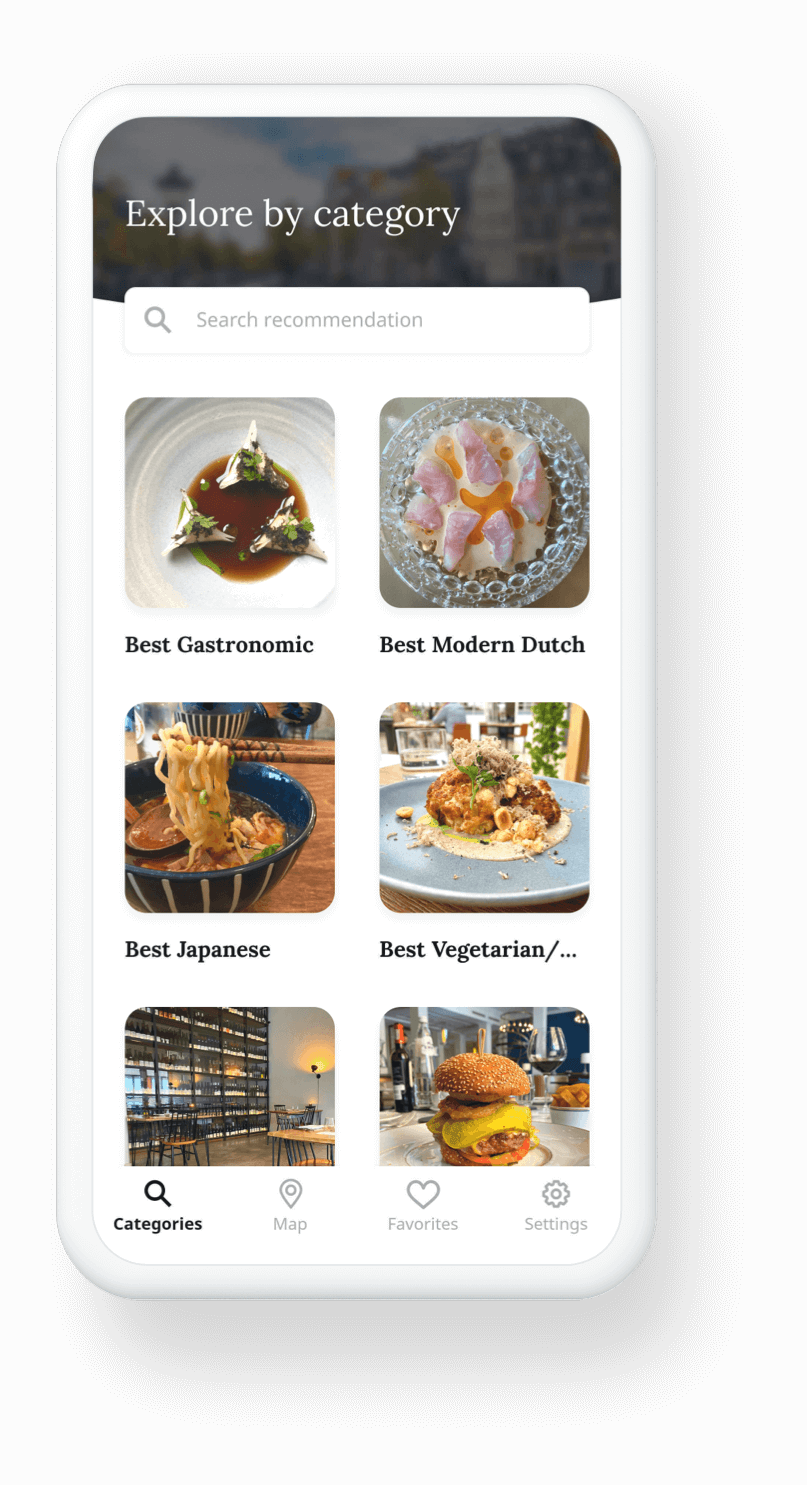 24 categories,
each with a top 10
Find the best places in any
neighbourhood
All the best restaurants, modern
& traditional






Amsterdam is famed for its canal houses and world-class museums, but it is also one of the culinary hotspots in Europe.
The Amsterdam Restaurant Guide app is quick & easy and to the point – it tells you everything you need to know and is always up to date. No more endless online searches or flipping through guides to find the best places to eat or drink.
Here's an app that's always available, right in your pocket. It contains brief descriptions of every featured restaurant, bar or food shop, so that you know what to expect, and photos of food that Elizabeth has actually eaten or bought there.
There is information about opening times and the location of the restaurant, including directions. There are social media links and tools for making bookings and favorite lists. Users will receive update messages about favorites and can also give feedback on their experiences.
The Amsterdam Restaurant Guide is an annual guide. The 2nd, 2022 edition was released in June 2022 and includes a new "Reviews" feature, where Elizabeth will publish here restaurant reviews.
Why do I have to pay for this app?
Because Elizabeth's Amsterdam Restaurant Guide is the only source for independent, expert and to the point advice about food and drink in Amsterdam. All the costs related to the app are paid by Elizabeth herself. She does not accept free meals or any other sponsoring and there's no advertizing in the app. Nobody paid Elizabeth to make this guide and nobody paid Elizabeth to be in her guide.
This quick & easy tool gives you honest and independent information about the best Amsterdam has to offer. You can trust this app and its recommendations.
Download the app and get 2 categories for free. Access to all 24 categories and the new "Reviews" feature requires a one-time in-app purchase of €9.99. One-time as in until the release of the new edition.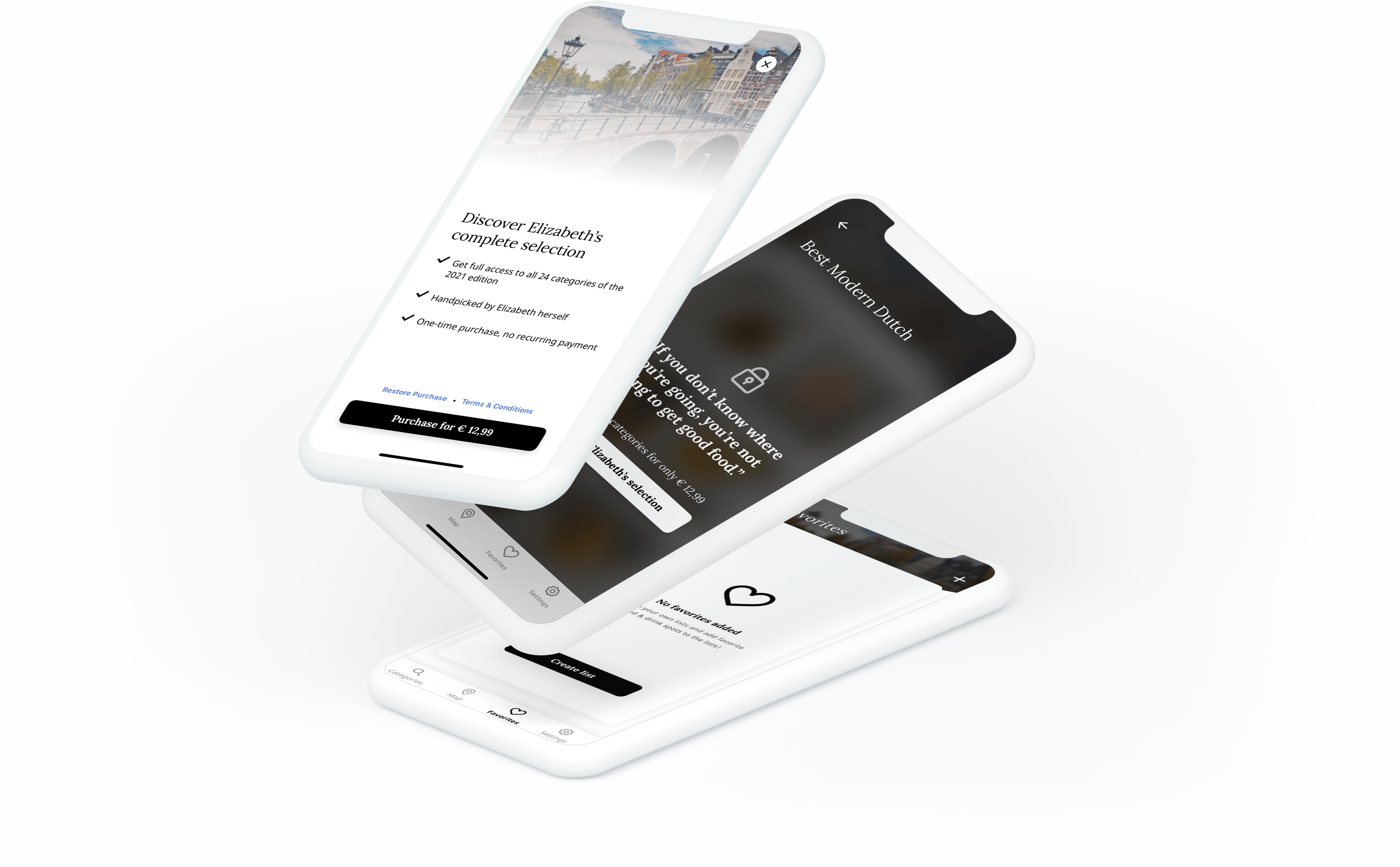 About Elizabeth Auerbach
Elizabeth Auerbach is an acclaimed Dutch restaurant writer. From 2010 until 2018 she ran the blog www.elizabethonfood.com where she reviewed the best restaurants in the world. Elizabeth is completely independent - she pays for everything out of her own pocket. Apart from hospitable gestures of a symbolic nature, she does not accept any subsidy in any form from anybody. This independence embodies the main principle of her work. 
Since 2019 she has been working on the Amsterdam Restaurant Guide app. For this guide she has personally visited more than 500 food and drink spots in Amsterdam. She has selected the very best for this app.
Follow Elizabeth on INSTAGRAM for the latest updates about food & drink in Amsterdam.
Download promotion materials
Is your restaurant, shop or bar featured in the Amsterdam Restaurant Guide app? Use our promotional materials to boost your social media presence. Click the button below to download the materials for the corresponding platform: